UX design to simplify the mortgage application process
As digital technology changes the mortgage industry, consumers embrace the application process for digital mortgages and seek lenders and advisers that offer calculators and tools to complete their applications from home.
Objectives were to enable clients to select a mortgage and connect with local Mortgage Advisers, provide a mobile-first design to capture the wholesale switch in devices and deliver the design sprints in parallel to engineering.
Mortgage Advice Bureau is the UK's leading mortgage intermediary brand with over 2,000 advisers across the UK and £16 billion in loans annually.
Enabling 2,000+ Mortgage Advisers with dual-branded websites to serve sales teams and local consumers
Design sprints provide the right toolkit to enable scale and the ability to build fully-automated services, including:
Showcasing Mortgage Advisers to consumers through dual-branded websites
Deliver engaging calculators and tools for finding mortgage products for new mortgages, remortgages, and buy-to-let
Simplifying the mortgage application process, reducing lead time, and minimising data entry
Design sprints to improve UX for Mortgage Advice Bureau.
Our goal was to use Design Sprints to enhance the user experience, streamline the customer journey and develop the user interface design to reflect the brand guidelines.
Design sprints focused on:
Improved website architecture and user journeys, addressing the lead generation and mortgage application process
Calculator and tool design to simplify the mortgage application process
Dual-branded landing pages for 2,000+ Mortgage Advisers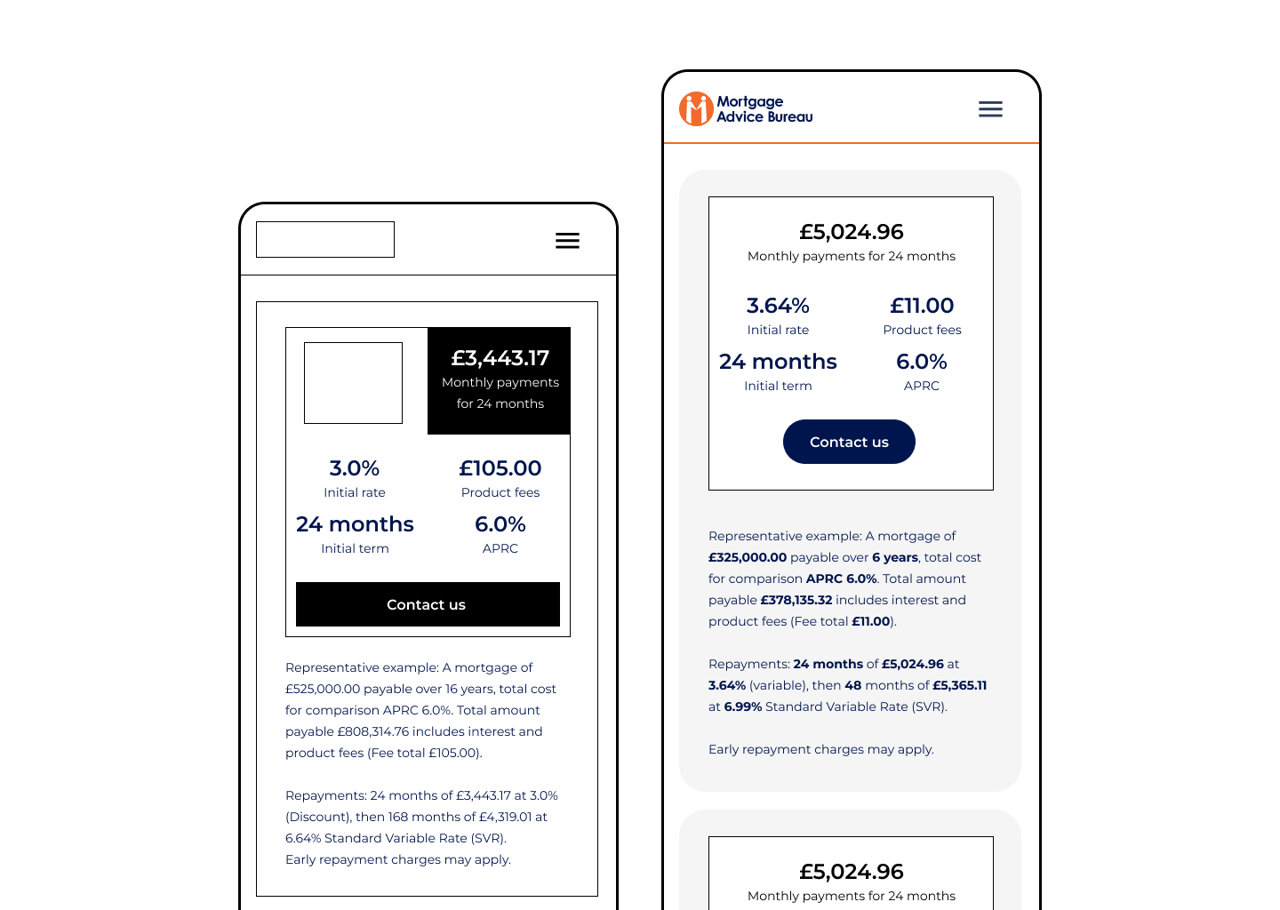 Accessibility and sustainability
Accessibility and sustainability both featured high on the requirements list and therefore are a central part of the design process when creating the design system.
The results at the launch were clear with page speed insights hitting the required targets. However, these will need reviewing on a regular basis with a program of continuous improvement to satisfy ongoing performance optimisation requirements.
The website is quick with core pages returning an average of 0.18g of CO2 per page view.
Not bad when the global average is between 4.61 grams of CO2 for every page view. For websites that have an average of 10,000 page views per month, that makes 553 kilograms of CO2 per year.