AI technology can now be connected to your CMS; these use cases show how it can improve user experience and editorial workflow.
Although Artificial Intelligence (AI) is not yet behind every website and app, the technology has really taken off for web developers. No longer the preserve of Data Science, we can now tap into an array of AI capabilities by connecting to services such as Machine Learning (ML) and Cognitive Services from Microsoft Azure.
As CMS specialists, we are already putting these to work on Umbraco and Episerver installations. Given that bread-and-butter challenges (GDPR, CRM integrations, security…) continue to dominate our workload, I will not claim that AI has completely reshaped CMS. However, the interventions described below deliver real benefits and improvements to your digital platform, and are worth working into your 2018 digital strategy.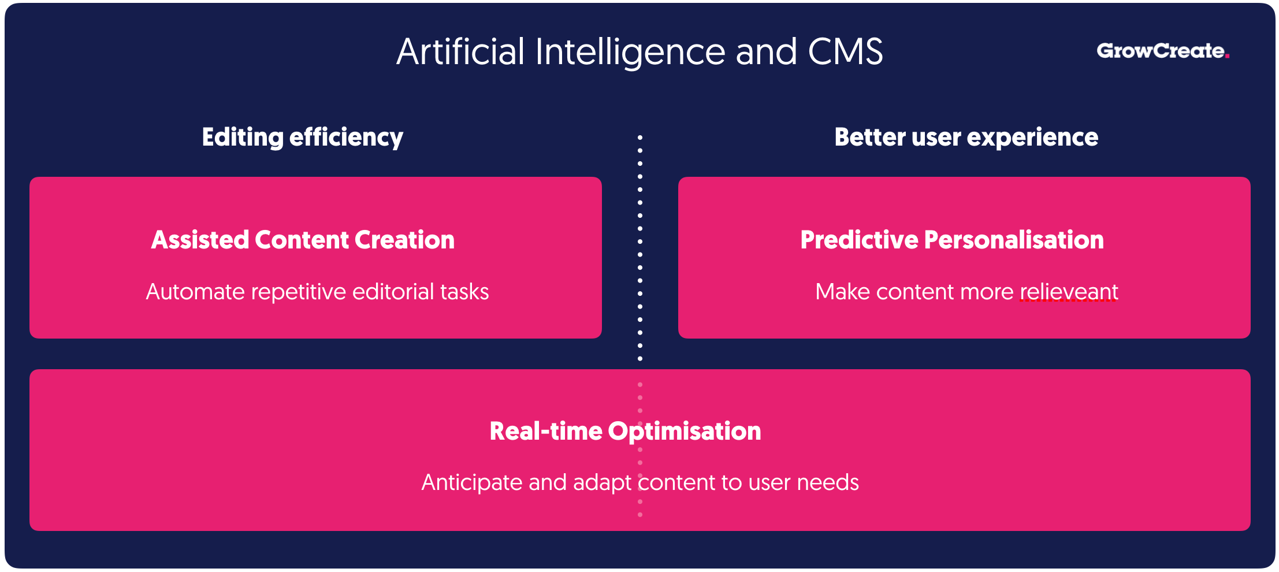 1. Make content more relevant with Predictive Personalisation
Whilst the heart of a website is content consumption, most UX challenges are associated with finding it. This is the most obvious area where AI can help, by predicting a user's needs and prioritising the most relevant content in lists and catalogues. Some typical personalisation use cases include: 
Recommendation engines that order content by relevance to the individual
Search results which adjust scoring to individual profile  
Lateral navigation and cross-references which automatically adjust to match the user's profile
2. Automate repetitive tasks with Assisted Content Creation
One step further from personalisation, AI can help editors be more productive when planning and creating content. Although the technology to write entire articles is out there, your journey into "Cognitive content" may well start with a suggestions engine. Your "CMS assistant" might take upon tasks such as:
Suggest content edits and new topics by analysing traffic
Use Cognitive Services to create alt tags for images and other non-text media
"Read" the article, auto-write a summary or suggest suitable images and tags 
3. Anticipate user needs with Real-time Optimisation
In the most advanced use case, AI adjusts the site content in real-time, in response to the individual's needs. Using both predictive and authoring powers, it could solve the riddle of "what does this user need to know next?". These examples demonstrate the power of this idea:
Spot usability errors, create on-the-fly A/B tests and help derive outcome faster
Content simplifies itself when a user is showing fatigue, e.g. clicking through pages quickly
A glossary, FAQ or wizard that adjusts to the user's learning curve
It's out there - act now
Contrary to some rather bombastic articles out there, AI has not yet "revolutionised" CMS - or any other industry for that matter. However, whilst more time is needed for the game-changing powers of AI to show through, the technology is available to use now, and the use cases described above offer genuine benefits. 
More importantly, the toolkit to deploy the technology is also available. In Episerver, Individualised Content is a core pillar of the CMS, whereas our Pipeline DXS is one avenue to infuse AI in your Umbraco site. With all the pieces in place, the time is right to give yourself an early-adopter boost and make AI a core component in your 2018 digital strategy.