I recently took part in a podcast on technology and client engagement in Wealth Management. Here are my notes
How can we use tech to deepen our understanding of the client and their real needs? 
Most Wealth Managers are using Risk Appetite questionnaires to capture broad profiles. As the word implies, these are one-dimensional sketches and stereotypes. To deepen our understanding, we must observe clients from multiple angles:
Beyond risk profiles, what is their financial personality?
Beyond age groups, what is going on in their lives?
Beyond demographics, what is their mood at this moment in time?
Advanced Analytics tech is available to help WMs create complete Client profiles using:
Combined data sources - CRM demographics, portfolio, market data…
Real-time behavioural data, tracing  a client's journey through touchpoints
ML algorithms to drive dynamic segmentation and action recommendations
Why does one size not fit all? 
Armed with a deeper understanding of each client, it is clear that everyone has different investment needs, based on their:
Personality - WMs have different model portfolios to match risk levels, but why not different messaging and notifications?
Life stage - certainly investors have different needs as they approach retirement, but what if they are getting married or divorced?
Mood - the last thing that an unhappy investor wants to see is bland, impersonal or - worse - blithely chirpy messages
The key ingredient here is timing. There is a big difference between what people say they would do in a given situation, and what they actually do.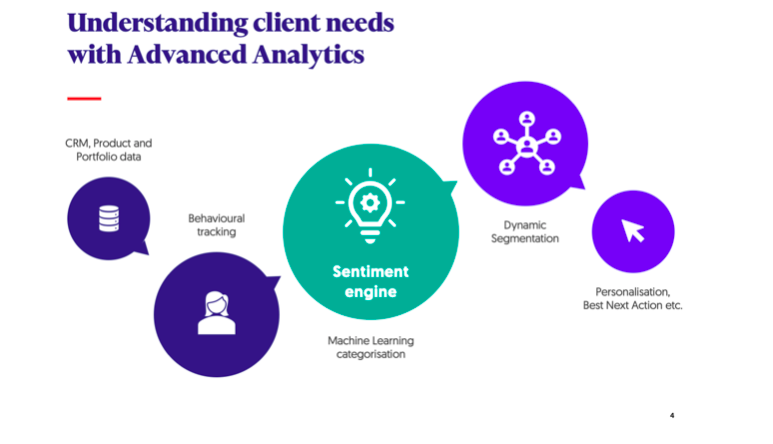 What is the benefit of Digitalisation vs Digitisation?
Digitisation - the transfer of analogue processes in the digital domain - has some cost efficiencies. But only digitalisation - using data and software to rewrite a business model - is transformational.
Requirements and specifications are the tell-tale signs of low-ambition digitisation: "the system must deliver PDF reports". In contrast, digital transformation is built with value statements and user stories: "as an Investor, so I can understand my position, I want access to an online platform with real-time portfolio statistics".
What are the key challenges and how can they be overcome?
To be sure legacy systems place a burden on most firms. But the biggest danger is that they foster a culture of one-way information flow - what we call legacy thinking. To overcome legacy thinking, the entire organisation needs to undergo a mindset shift:
Start with value statements ("ensure trust and transparency") as opposed to features ("distribute statements")
Select architectures that allow for change and continuous improvement, rather than build-and-forget monoliths
Ensure that data flows in both directions, tracking user behaviour on every step to power Analytics and service improvements